"Wear that (pointing to a lace, ivory bodysuit) with your yellow leather jacket and buy that red clutch we saw earlier. This would be perfect for the Hamptons," I heard her say without an ounce of doubt.
"Genius, Hannah!" her friend screeches while modeling a powder blue dress in front of a mirror, turning and twisting her size 4 figure while primping her hair and lipgloss, nodding in absolute satisfaction.
What was interesting to me though... was Hannah.
I watched as she poked around nearby racks, in a baggy pair of faded jeans that hung upon her curvy frame, styled with pristine white Nike trainers and an oversized black v-neck long sleeve shirt. Looking frustrated yet hopeful at the same time.
Now at this point, I'm wondering-- here is this Hannah girl, a clear style enthusiast with a knack for producing swank ensembles all in her head, yet dressed so... unassuming. "Why was that?" I wondered. I needed to know more about her.
As her friend continued to walk in and out of the dressing room trying on outfits, I walked over to Hannah and praised her fashion advice. With a big smile, she complimented my open-toed booties and we instantly hit it off, exchanging homage to the current fashion trends. From bodysuits to bombers, we rejoiced in shared opinions and amicably debated on others.
The main thing we had in common: we both loved fashion.
After a few minutes of conversation, Hannah explained her frustration with the fashion industry today-- the limited variety of clothing in her size, which was apparently considered to be plus-size.
"It's like because I'm bigger, I don't deserve to wear the same clothes," she protests.
"I used to blame myself all the time because I couldn't lose these extra ten pounds I've been carrying since college," she goes on to say. "And like at this point I'm comfortable with my body, until I feel like an alien when I walk into these stores."
As I looked around the store, I saw copious racks and displays and mannequins all meant to help the 'thin shopper' find what he or she was looking for. Tucked in a corner was the 'Plus-Size' section. In it had two measly racks and a smaller display with neatly folded basic T's, without any sight of mannequins.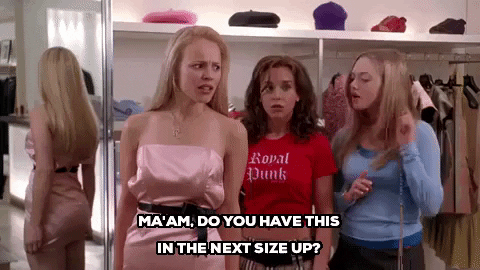 Plus-sizes are often classified as sizes 14 to 34. According to the CDC, the average American women wears a size 14. That means 67% of the population is considered plus-size. If more than half of the population wears a plus size, you would think there would be an over abundance of styles and colors, along with a plethora of advertisements and marketing tactics targeted to this market... right?
Wrong. The reality is that many women are not being served true 'plus-size' marketing, neither online nor in-store. Runway and editorial models on most websites fit the same body frame People may argue over the term itself, since plus-size models don't look plus-size in many cases (kudos to you Iskra Lawrence, Jocelyn Corona and Marquita Pring for helping to change the game, but you most definitely do not look 'plus-size' to me) — the core issue is that an entire segment of this market (i.e. women who wear sizes over 12) isn't being marketed to at all.
In a world of no plus-size models, adverts, or even mannequins-- how does a woman who wears a size 18, for example, purchase something without having any idea how that clothing will look on her body?